https://piece-hunter.ch/media/image/thumbnail/x_ss100327_30x30.jpg
https://piece-hunter.ch/media/image/thumbnail/x_ss100327_e_30x30.jpg
https://piece-hunter.ch/media/image/thumbnail/x_ss100327_f_30x30.jpg
https://piece-hunter.ch/media/image/thumbnail/x_ss100327_g_30x30.jpg
https://piece-hunter.ch/media/image/thumbnail/x_ss100327_h_30x30.jpg
https://piece-hunter.ch/media/image/thumbnail/x_ss100327_i_30x30.jpg
https://piece-hunter.ch/media/image/thumbnail/x_ss100327_k_30x30.jpg
https://piece-hunter.ch/media/image/thumbnail/x_ss100327_l_30x30.jpg
https://piece-hunter.ch/media/image/thumbnail/x_ss100327_m_30x30.jpg
https://piece-hunter.ch/media/image/thumbnail/x_ss100327_n_30x30.jpg
https://piece-hunter.ch/media/image/thumbnail/x_ss100327_o_30x30.jpg
https://piece-hunter.ch/media/image/thumbnail/x_ss100327_w_30x30.jpg
https://piece-hunter.ch/media/image/thumbnail/x_ss100327_x_30x30.jpg
https://piece-hunter.ch/media/image/thumbnail/x_ss100327_1000x800.jpg
https://piece-hunter.ch/media/image/thumbnail/x_ss100327_e_1000x800.jpg
https://piece-hunter.ch/media/image/thumbnail/x_ss100327_f_1000x800.jpg
https://piece-hunter.ch/media/image/thumbnail/x_ss100327_g_1000x800.jpg
https://piece-hunter.ch/media/image/thumbnail/x_ss100327_h_1000x800.jpg
https://piece-hunter.ch/media/image/thumbnail/x_ss100327_i_1000x800.jpg
https://piece-hunter.ch/media/image/thumbnail/x_ss100327_k_1000x800.jpg
https://piece-hunter.ch/media/image/thumbnail/x_ss100327_l_1000x800.jpg
https://piece-hunter.ch/media/image/thumbnail/x_ss100327_m_1000x800.jpg
https://piece-hunter.ch/media/image/thumbnail/x_ss100327_n_1000x800.jpg
https://piece-hunter.ch/media/image/thumbnail/x_ss100327_o_1000x800.jpg
https://piece-hunter.ch/media/image/thumbnail/x_ss100327_w_1000x800.jpg
https://piece-hunter.ch/media/image/thumbnail/x_ss100327_x_1000x800.jpg
Obi-Wan Kenobi - Star Wars Mythos - 1/6 Scale Figur
Hersteller Sideshow
Artikel-Nr.: SS100327
- Voraussichtlich ab 1. Quartal 2019 lieferbar
- Versanddauer 3 bis 4 Werktage
Collectible "Obi-Wan Kenobi - Star Wars Mythos - 1/6 Scale Figur"
Aus Sideshow Collectibles' "Star Wars Mythos" Reihe kommt diese detailreiche Actionfigur.
Sie ist ca. 30 cm gross, trägt echte Stoffkleidung und wird mit weiterem Zubehör in einer Fensterbox mit Klappdeckel geliefert.
Die Sammlerfigur kommt mit folgenden Besonderheiten:
Detailed likeness of Obi-Wan Kenobi as envisioned prior to A New Hope
Approximately 12 inches tall
Seven (7) hands including:
- One (1) pair of Force hands
- One (1) pair of fists
- One (1) pair of grip hands
- One (1) right trigger hand
Tailored fabric costume featuring:
Tunic with tabards and sash
Pants
Under tunic
Jedi belt
Sleeveless robe
Nomad Pack with 2 Bed Rolls and Bandoliers
One (1) pair of Jedi boots with wraps
Obi-Wan's lightsaber with removable blade
Qui-Gon Jinn's lightsaber hilt
Anakin/Luke Skywalker's lightsaber hilt
Modified Tusken rifle
Two (2) Gaffi sticks
Portable moisture vaporator
Grappling hook
Droid caller
Macrobinoculars
Goggles (cannot be worn by figure)
Clone wars armor (cannot be worn by figure)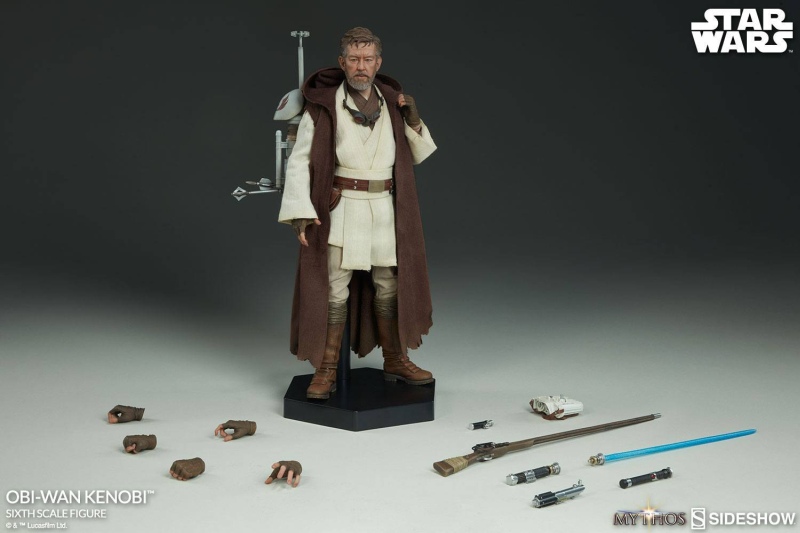 Bei unseren Produkten handelt es sich um Sammlerartikel
Diese sind nur für Erwachsene geeignet und nicht als Kinderspielzeug gedacht!
Erstickungsgefahr aufgrund verschluckbarer Kleinteile, von Kindern unter 3 Jahre fernhalten.
Hersteller Bilder
Die Hersteller Bilder sind meist von einem Prototypen, das Endprodukt kann etwas davon abweichen, kleine Änderungen können ohne weitere Ankündigung vorkommen.
Vorbestellungen
Artikel die vorbestellbar sind, sind frühestens ab dem angegebenen Datum beim Lieferanten auf Lager. Das Release Datum wird häufig vom Hersteller verschoben! Es kann also sein, dass der Artikel nicht zum erwarteten Zeitpunkt erscheint und länger auf sich warten lässt.
Eigenschaften
Verfügbarkeit

Vorbestellung

Thema

Star Wars

Hersteller

Sideshow

Produkt

Sixth Scale Figur

Maßstab

1/6 Scale

Grösse

30cm (11.5")

Material

PVC / Stoff

Lizenz

Lucas Film LDT

Edition

Limitiert

Verpackung

Box