https://piece-hunter.ch/media/image/thumbnail/x_ss400316_30x30.jpg
https://piece-hunter.ch/media/image/thumbnail/x_ss400316_d_30x30.jpg
https://piece-hunter.ch/media/image/thumbnail/x_ss400316_f_30x30.jpg
https://piece-hunter.ch/media/image/thumbnail/x_ss400316_i_30x30.jpg
https://piece-hunter.ch/media/image/thumbnail/x_ss400316_l_30x30.jpg
https://piece-hunter.ch/media/image/thumbnail/x_ss400316_p_30x30.jpg
https://piece-hunter.ch/media/image/thumbnail/x_ss400316_q_30x30.jpg
https://piece-hunter.ch/media/image/thumbnail/x_ss400316_r_30x30.jpg
https://piece-hunter.ch/media/image/thumbnail/x_ss400316_s_30x30.jpg
https://piece-hunter.ch/media/image/thumbnail/x_ss400316_g_30x30.jpg
https://piece-hunter.ch/media/image/thumbnail/x_ss400316_j_30x30.jpg
https://piece-hunter.ch/media/image/thumbnail/x_ss400316_k_30x30.jpg
https://piece-hunter.ch/media/image/thumbnail/x_ss400316_m_30x30.jpg
https://piece-hunter.ch/media/image/thumbnail/x_ss400316_1000x800.jpg
https://piece-hunter.ch/media/image/thumbnail/x_ss400316_d_1000x800.jpg
https://piece-hunter.ch/media/image/thumbnail/x_ss400316_f_1000x800.jpg
https://piece-hunter.ch/media/image/thumbnail/x_ss400316_i_1000x800.jpg
https://piece-hunter.ch/media/image/thumbnail/x_ss400316_l_1000x800.jpg
https://piece-hunter.ch/media/image/thumbnail/x_ss400316_p_1000x800.jpg
https://piece-hunter.ch/media/image/thumbnail/x_ss400316_q_1000x800.jpg
https://piece-hunter.ch/media/image/thumbnail/x_ss400316_r_1000x800.jpg
https://piece-hunter.ch/media/image/thumbnail/x_ss400316_s_1000x800.jpg
https://piece-hunter.ch/media/image/thumbnail/x_ss400316_g_1000x800.jpg
https://piece-hunter.ch/media/image/thumbnail/x_ss400316_j_1000x800.jpg
https://piece-hunter.ch/media/image/thumbnail/x_ss400316_k_1000x800.jpg
https://piece-hunter.ch/media/image/thumbnail/x_ss400316_m_1000x800.jpg
Kylo Ren - Star Wars - Life-Size Büste
Hersteller Sideshow
Artikel-Nr.: SS400316
- Verfügbarkeit und Lieferzeit auf Anfrage
- Versanddauer 3 bis 4 Werktage
Collectible "Kylo Ren - Star Wars - Life-Size Büste"
Sideshow Collectibles präsentiert die Kylo Ren Life-Size Büste aus Star Wars.

Die hochwertige Sammler Life-Size Büste ist ca.74 x 56 x 38 gross und aus verschiedenen Materialien hergestellt.
Produkt Typ: Life-Size Büste
Produkt Grösse: H 736.6mm x W 558.8mm x L 381mm
Produkt Gewicht: ca. 12.70kg
Künstler:
Scott Wade (Design)
Matt Black (Sculpt)
Tim Hanson (Costume Fabrication)
The Sideshow Design and Development Team
© & ™ Lucasfilm Ltd.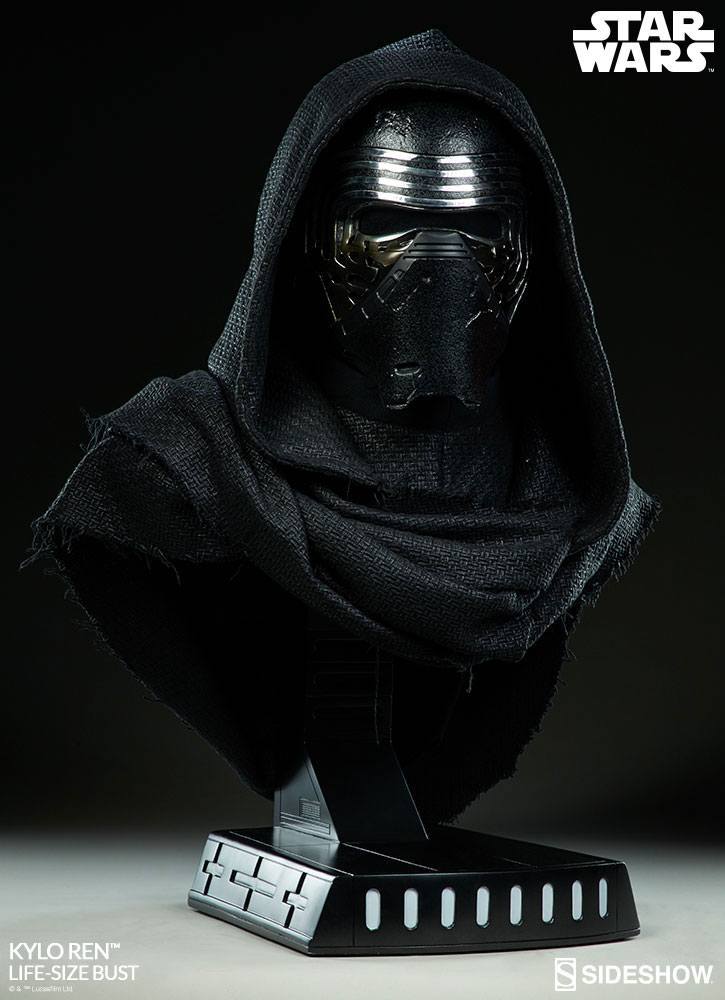 Bei unseren Produkten handelt es sich um Sammlerartikel
Diese sind nur für Erwachsene geeignet und nicht als Kinderspielzeug gedacht!
Erstickungsgefahr aufgrund verschluckbarer Kleinteile, von Kindern unter 3 Jahre fernhalten.
Hersteller Bilder
Die Hersteller Bilder sind meist von einem Prototypen, das Endprodukt kann etwas davon abweichen, kleine Änderungen können ohne weitere Ankündigung vorkommen.
Vorbestellungen
Artikel die vorbestellbar sind, sind frühestens ab dem angegebenen Datum beim Lieferanten auf Lager. Das Release Datum wird häufig vom Hersteller verschoben! Es kann also sein, dass der Artikel nicht zum erwarteten Zeitpunkt erscheint und länger auf sich warten lässt.
Eigenschaften
Verfügbarkeit

Auf Anfrage

Thema

Star Wars

Hersteller

Sideshow

Produkt

Polystone Bust, Fiberglas Bust

Maßstab

Life Size

Grösse

74cm (29")

Material

Polystone / Stoff, Fiberglas

Lizenz

Lucas Film LDT

Edition

Limitiert

Verpackung

Glanzkarton, Styropor