https://piece-hunter.ch/media/image/thumbnail/x_mame903914_1_30x30.jpg
https://piece-hunter.ch/media/image/thumbnail/x_mame903914_a_30x30.jpg
https://piece-hunter.ch/media/image/thumbnail/x_mame903914_b_30x30.jpg
https://piece-hunter.ch/media/image/thumbnail/x_mame903914_c_30x30.jpg
https://piece-hunter.ch/media/image/thumbnail/x_mame903914_d_30x30.jpg
https://piece-hunter.ch/media/image/thumbnail/x_mame903914_e_30x30.jpg
https://piece-hunter.ch/media/image/thumbnail/x_mame903914_f_30x30.jpg
https://piece-hunter.ch/media/image/thumbnail/x_mame903914_g_30x30.jpg
https://piece-hunter.ch/media/image/thumbnail/x_mame903914_i_30x30.jpg
https://piece-hunter.ch/media/image/thumbnail/x_mame903914_j_30x30.jpg
https://piece-hunter.ch/media/image/thumbnail/x_mame903914_k_30x30.jpg
https://piece-hunter.ch/media/image/thumbnail/x_mame903914_n_30x30.jpg
https://piece-hunter.ch/media/image/thumbnail/x_mame903914_p_30x30.jpg
https://piece-hunter.ch/media/image/thumbnail/x_mame903914_1_1000x800.jpg
https://piece-hunter.ch/media/image/thumbnail/x_mame903914_a_1000x800.jpg
https://piece-hunter.ch/media/image/thumbnail/x_mame903914_b_1000x800.jpg
https://piece-hunter.ch/media/image/thumbnail/x_mame903914_c_1000x800.jpg
https://piece-hunter.ch/media/image/thumbnail/x_mame903914_d_1000x800.jpg
https://piece-hunter.ch/media/image/thumbnail/x_mame903914_e_1000x800.jpg
https://piece-hunter.ch/media/image/thumbnail/x_mame903914_f_1000x800.jpg
https://piece-hunter.ch/media/image/thumbnail/x_mame903914_g_1000x800.jpg
https://piece-hunter.ch/media/image/thumbnail/x_mame903914_i_1000x800.jpg
https://piece-hunter.ch/media/image/thumbnail/x_mame903914_j_1000x800.jpg
https://piece-hunter.ch/media/image/thumbnail/x_mame903914_k_1000x800.jpg
https://piece-hunter.ch/media/image/thumbnail/x_mame903914_n_1000x800.jpg
https://piece-hunter.ch/media/image/thumbnail/x_mame903914_p_1000x800.jpg
Big Chap - Alien - 1/3 Statue
Hersteller Mamegyorai
Artikel-Nr.: MAME903914
- Voraussichtlich ab 3. Quartal 2019 lieferbar
- Versanddauer 3 bis 4 Werktage
Collectible "Big Chap - Alien - 1/3 Statue"
Zum SciFi/Horror-Klassiker "Alien" kommt diese fantastische Statue im Massstab 1:3. Sie ist ca. 72 cm gross.
This masterpiece of a statue expresses the true character from every detail down to its infamous pose. Big Chap will always be a symbolic member of the golden monster era.

This project began with a special team of four hand-selected by Mamegyorai. The director of this team is Mr. Kiyonori Fujimoto who has sculpted, painted, and finalized this incredible life-like character in 1:3 scale. No compromises were made - attention to every fine detail has been brought to life!

This is a must-have for any Alien fan's collection.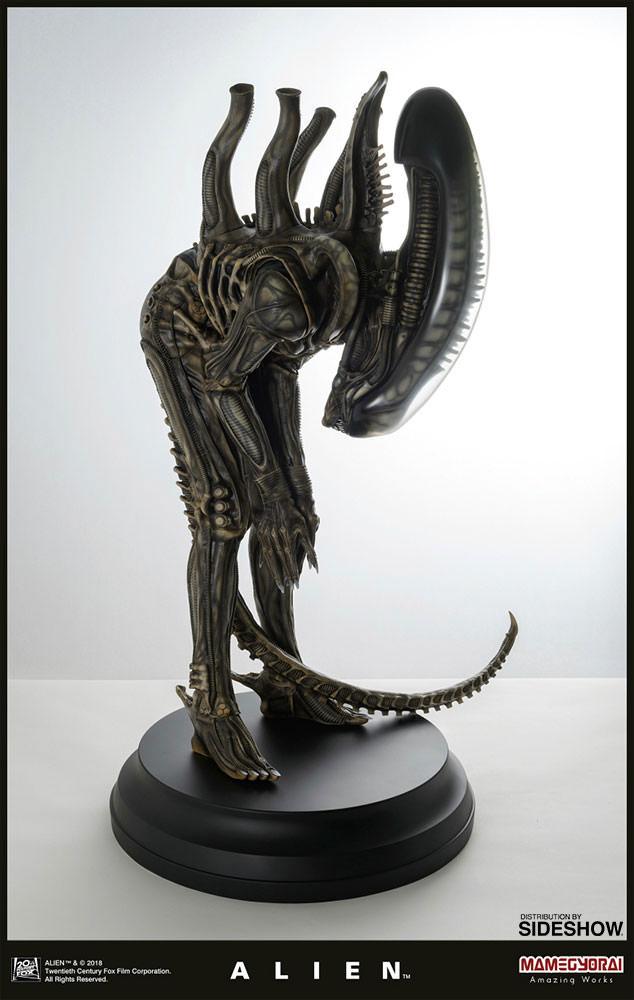 Bei unseren Produkten handelt es sich um Sammlerartikel
Diese sind nur für Erwachsene geeignet und nicht als Kinderspielzeug gedacht!
Erstickungsgefahr aufgrund verschluckbarer Kleinteile, von Kindern unter 3 Jahre fernhalten.
Hersteller Bilder
Die Hersteller Bilder sind meist von einem Prototypen, das Endprodukt kann etwas davon abweichen, kleine Änderungen können ohne weitere Ankündigung vorkommen.
Vorbestellungen
Artikel die vorbestellbar sind, sind frühestens ab dem angegebenen Datum beim Lieferanten auf Lager. Das Release Datum wird häufig vom Hersteller verschoben! Es kann also sein, dass der Artikel nicht zum erwarteten Zeitpunkt erscheint und länger auf sich warten lässt.
Eigenschaften
Verfügbarkeit

Vorbestellung

Thema

Alien

Hersteller

Mamegyorai

Produkt

Statue

Maßstab

1/3 Scale

Grösse

72cm (28.5")

Material

Diverse Materialien

Verpackung

Box, Karton