https://piece-hunter.ch/media/image/thumbnail/SE011_02_30x30.jpg
https://piece-hunter.ch/media/image/thumbnail/SE011_03_30x30.jpg
https://piece-hunter.ch/media/image/thumbnail/SE011_04_30x30.jpg
https://piece-hunter.ch/media/image/thumbnail/SE011_05_30x30.jpg
https://piece-hunter.ch/media/image/thumbnail/SE011_06_30x30.jpg
https://piece-hunter.ch/media/image/thumbnail/SE011_07_30x30.jpg
https://piece-hunter.ch/media/image/thumbnail/SE011_08_30x30.jpg
https://piece-hunter.ch/media/image/thumbnail/SE011_09_30x30.jpg
https://piece-hunter.ch/media/image/thumbnail/SE011_01_30x30.jpg
https://piece-hunter.ch/media/image/thumbnail/SE011_10_30x30.jpg
https://piece-hunter.ch/media/image/thumbnail/SE011_11_30x30.jpg
https://piece-hunter.ch/media/image/thumbnail/SE011_12_30x30.jpg
https://piece-hunter.ch/media/image/thumbnail/SE011_13_30x30.jpg
https://piece-hunter.ch/media/image/thumbnail/SE011_02_1000x800.jpg
https://piece-hunter.ch/media/image/thumbnail/SE011_03_1000x800.jpg
https://piece-hunter.ch/media/image/thumbnail/SE011_04_1000x800.jpg
https://piece-hunter.ch/media/image/thumbnail/SE011_05_1000x800.jpg
https://piece-hunter.ch/media/image/thumbnail/SE011_06_1000x800.jpg
https://piece-hunter.ch/media/image/thumbnail/SE011_07_1000x800.jpg
https://piece-hunter.ch/media/image/thumbnail/SE011_08_1000x800.jpg
https://piece-hunter.ch/media/image/thumbnail/SE011_09_1000x800.jpg
https://piece-hunter.ch/media/image/thumbnail/SE011_01_1000x800.jpg
https://piece-hunter.ch/media/image/thumbnail/SE011_10_1000x800.jpg
https://piece-hunter.ch/media/image/thumbnail/SE011_11_1000x800.jpg
https://piece-hunter.ch/media/image/thumbnail/SE011_12_1000x800.jpg
https://piece-hunter.ch/media/image/thumbnail/SE011_13_1000x800.jpg
Royal Knight - Series of Empires - 1/6 Scale Actionfigur

Sixth Scale Action Figur
Royal Knight - Series of Empires
Spezielle Features:
30 cm gross
diverse Austauschteile

Rüstung aus 80% Metall
Hersteller COOMODEL
Artikel-Nr.: CMSE011
- Verfügbarkeit und Lieferzeit auf Anfrage
- Versanddauer 3 bis 4 Werktage
Collectible "Royal Knight - Series of Empires - 1/6 Scale Actionfigur"
COOMODEL präsentiert diesen Royal Knight als 1/6 Scale Actionfigur.

Die Sammlerfigur kommt mit diversen Austauschteilen in einer schönen Collectors Box.
One (1) head sculpture of angry expression
One (1) body
Six (6) pieces of interchangeable palms (2 bare fists, 2 open palms and 2 weapon holding hands in silver armour)
80% of plate armour matrial is metal
Leather material upgraded
All new action body 2.0 used

Costumes:
One (1) black shirt
One (1) pair of black pants
One (1) suit of chain armour
One (1) silver helmet
One (1) suit of upper body plate armour
One (1) pair of silver vambraces
One (1) pair of silver knee armour
One (1) pair of silver cuishes
One (1) double layer leather belt
Weapons:
One (1) knight sword
One (1) sword scabbard
One (1) dagger
One (1) dagger scabbard
One (1) battleaxe
Accessory:
One (1) wood figure stand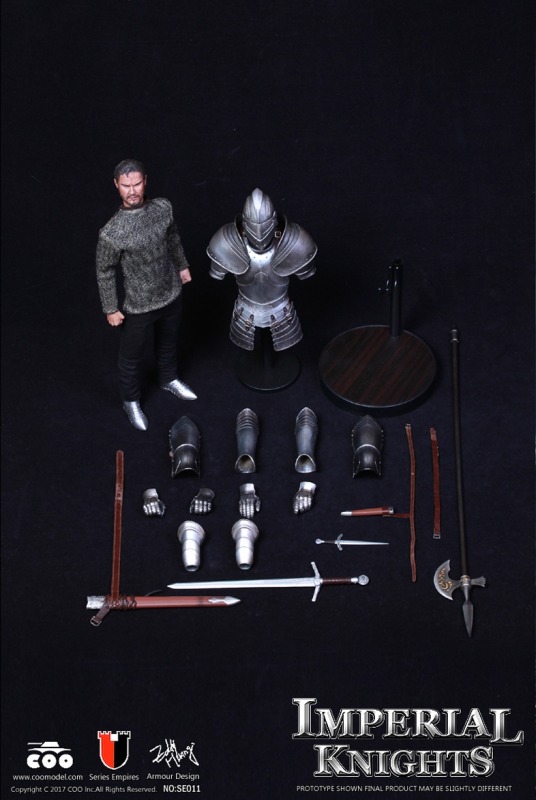 Bei unseren Produkten handelt es sich um Sammlerartikel
Diese sind nur für Erwachsene geeignet und nicht als Kinderspielzeug gedacht!
Erstickungsgefahr aufgrund verschluckbarer Kleinteile, von Kindern unter 3 Jahre fernhalten.
Hersteller Bilder
Die Hersteller Bilder sind meist von einem Prototypen, das Endprodukt kann etwas davon abweichen, kleine Änderungen können ohne weitere Ankündigung vorkommen.
Vorbestellungen
Artikel die vorbestellbar sind, sind frühestens ab dem angegebenen Datum beim Lieferanten auf Lager. Das Release Datum wird häufig vom Hersteller verschoben! Es kann also sein, dass der Artikel nicht zum erwarteten Zeitpunkt erscheint und länger auf sich warten lässt.
Eigenschaften
Verfügbarkeit

Ab Lager, Verfügbar

Thema

Ritter & Römer

Hersteller

ACI Toys

Produkt

Sixth Scale Figur

Serie

Warriors

Maßstab

1/6 Scale

Grösse

30cm (11.5")

Material

PVC / Stoff

Verpackung

Box